10-04-2019
The summer camp "Understanding China"
This year it will take place from July 14 to July 28 in Beijing and Tianjin, China (details in document 4) .
 Participants will depart from Poland on July 14 and get back to Poland on July 28.  All the applicants need to be 18-40 years old, loving Chinese culture. Those who have a certain Chinese level are preferred. However, those who have been sponsored to go to China by Hanabn within 3 years cannot participate.
The participants will only need to pay the flight tickets of round trip (around 3000 PLN) and visa fee. They will be accompanied by CI staffs and local teachers/guides. The accommodation, transportation, food, personal accident insurance, tickets for attractions in China are sponsored by the organizer.
For signing up, the applicants should
provide 1. the scan of passport ( 1st page with the photo)
, as well as filling in and signing :
2. Application form 3. Personal statement  4. RODO agreement.
The above 4 matarials should be signed, scanned and sent back to : lp.ud

1576436340

e.ju@

1576436340

ux.ni

1576436340

xnij

1576436340

 before May 1st. The number of participants is limited. The CI in Krakow will decide who can participate before May 15th and notify the next step by email.
( ! The applicants should not buy tickets in advance. All the participants including the CI's team leader need to take the same flight, while the flight number will not be informed until the paricipants are comfirmed.)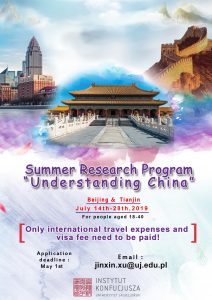 1:"了解中国"高端研修项目申请表 Application Form